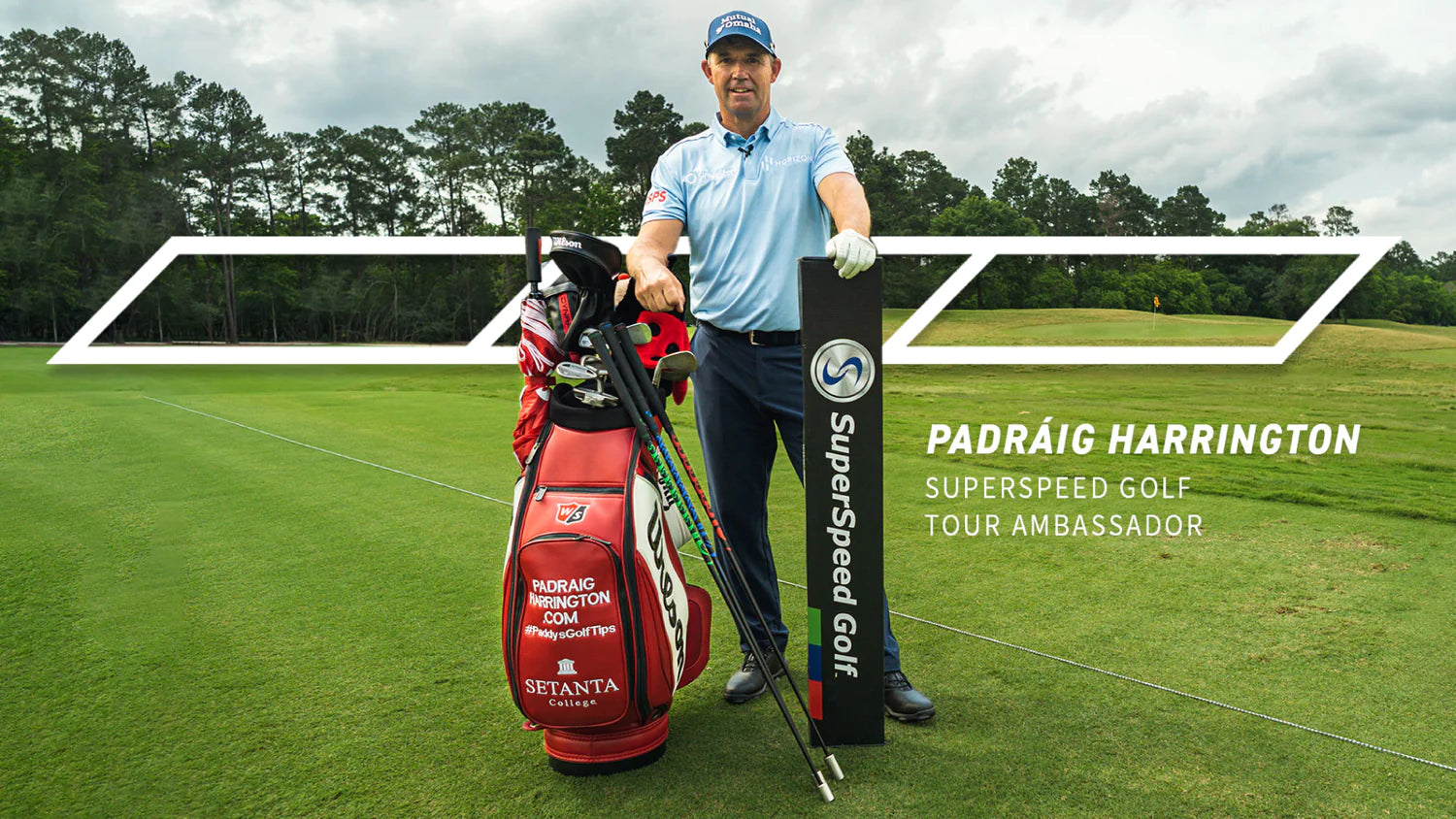 Padraig Harrington joins SuperSpeed Golf as Brand Ambassador
SuperSpeed Golf is excited to announce the signing of a worldwide and multi-year brand ambassador agreement with Padraig Harrington.
Harrington has won three Major Championships including the 2007 and 2008 Open Championships and the 2008 PGA Championship as well as the 2022 US Senior Open. In total, Harrington has amassed 35 professional victories, reached a highest Official World Golf Ranking of No. 3 and was named a 2024 World Golf Hall of Fame Inductee. In recent years, Harrington has made speed training and overall strength a priority for his continued improvement. At 51 years of age, he has reached the fastest swing speed of his professional career and is leading PGA TOUR Champions in driving distance by reaching ball speeds above 180 mph on a regular basis.
Padraig's partnership will include social media engagement with the SuperSpeed community which will center on why speed is so important in the modern game, how it's possible to gain speed as you age, how biomechanics and technology have improved the ability to know exactly how best to train for speed, and why SuperSpeed is the easiest and most effective speed training system on the market.
"I am excited to officially work with SuperSpeed as I want to continue to create more easy speed with my swing. A lot of people think it's all about speed which is very important but what it is really about is having speed in your comfort zone while playing. SuperSpeed has been in this game the longest, they've built these programs, they have the experience, and they've done the research. If you don't have speed, you are behind the 8- ball and giving up a lot." said Harrington.
SuperSpeed also supports several other players and influencers including LPGA Tour players Nanna Koerstz-Madsen and Cheyenne Night, Korn Ferry Tour player Cody Blick, and top amateur Maxwell Moldovan.
The SuperSpeed Golf Training System includes three specifically weighted training clubs and access to over a year's worth of complimentary online training. Designed around the concept of Overspeed Training, the research is clear showing 5% swing speed gains in approximately six weeks of regular practice with gains continuing with subsequent use.
The SuperSpeed Training System has helped hundreds of thousands of golfers increase their swing speed and create more powerful, consistent golf swings. Used by over 700 touring professionals, SuperSpeed is available in over 40 countries.
"All of us here at SuperSpeed are very excited to have a player like Padraig not only as an ambassador for SuperSpeed, but proof of the impact our system can have. When we decided to start our Tour ambassador program, he was the first player we thought of," said Mike Napoleon, President of SuperSpeed Golf. "Padraig has been working with our equipment as long as our company has existed and has enjoyed great results. He is a perfect example of how fully integrating speed training can have long-term positive effects for a player. We hope that having him on the team helps bring this message to many more golfers all around the world."
Train swing speed like Padraig Harrington with the SuperSpeed Golf Training System.